Mobile Marketing as seen by Spicy Mobile
3rd party cookies, programmatic, big data, shopping apps and omnichannel are, according to experts from Spicy Mobile agency, the most important trends and events that will shape mobile marketing in 2022.
Trend 1. 3rd party cookies
Google's announcement of 3rd party cookie blockade is one of the hottest recent topics and, according to a survey conducted by Spicy Mobile among people responsible for planning and executing advertising campaigns, one of the key events in 2022. Third-party files are now being used in remarketing, retargeting and look-alike campaigns for the benefit of advertisers and consumers. Personalized ads have a higher click-through rate (CTR) than their counterparts. The users themselves, in turn, thanks to personalization, see less random ads, unrelated to their needs, preferences or behavior.
"Naturally, the first question that comes to mind is how the blocking of 3rd party cookies will translate into conducting advertising activities. – comments Artur Zawadzki from Spicy Mobile. – "Among the advertising options that will disappear or change are.in. retargeting as we know it now, targeting based on 2nd and 3rd party cookie segments, dynamic ad optimization (DCO) based on 2nd and 3rd party cookie segments, capping and cross-site reach counting, and conversion attribution based on 3rd party cookie".
According to the expert, there are many other sources of user data that will still be available to advertisers. As an alternative to cookies, Google proposes cohort analytics, where users with similar browsing history (interests) are grouped into cohorts. Facebook has developed a new Conversions API (CAPI) to share data directly from its server, not through the browser. Non-walled gardens are also working on their own solutions.
"Removal of 3rd party cookies should be treated not as a threat, but as an opportunity to develop technology that, in line with new legal regulations, will enable effective advertising campaigns. It's also an opportunity to validate other solutions and expand our own databases. The world of multi-shared IDs is coming, and we don't have to be afraid of it, but we should adapt to it," Zawadzki stresses.
Trend 2. Programmatic
According to the Spicy Mobile study, 73% of media house representatives consider programmatic to be one of the most promising types of mobile advertising, and 45% cite it as one of the most important trends and developments in mobile advertising in 2022. The share of programmatic advertising in the online marketing market is growing, according to IAB Poland by 20% year on year. Programmatic ad spend accounts for 22% of online ad budget and nearly 50% of display ad spend alone. However, the programmatic ad buying model also faces many difficulties.
– "Without a doubt, the biggest challenge the programmatic market will face is the post-cookies era, which is set to become a reality with the end of 2023. Postponing by Google the date of abolition of 3rd party cookies to next year gave the whole industry a bit more time to prepare for functioning in the new reality. Unfortunately, the programmatic market will suffer especially in this case, and solutions allowing for limiting losses will be worth their weight in gold to advertisers" – admits Dominik Stocki from Spicy Mobile.
Trend 3. Big Data
In 2022, Spicy Mobile experts expect big data to play an even greater role in mobile advertising. This is the time to collect data from a variety of sources (m.in. due to the elimination of 3rd party files), as well as testing various solutions for their use in advertising activities. Advertisers want to be able to reach selected audiences, and ways of reaching them based on hard data work best here.
According to Marta Sielska, advertisers are much more likely to ask for detailed reports and analyses. They pay attention to quality traffic, i.e. long enough time on the page, low bounce rate, high VA, conversions. Depending on the campaign goal, different parameters are crucial for them. In case of advertising activities, where the goal is to sell, it will be conversion. Viewability, reaching the target group as precisely as possible, and reach are the most important factors for image campaigns.
Trend 4. Shopping apps
According to App Annie's global survey, users are increasingly using shopping apps and spending more time in them. According to Tomasz Kąkol of Spicy Mobile, this data illustrates a trend we will soon be facing in Poland: m-commerce is strengthening and moving from mobile websites to apps.
"74% of people using an Android phone or tablet in Poland have at least one shopping app installed on their device. Having an app is crucial for those retailers who want to strengthen their e-commerce. Retail needs to adapt to new conditions: to capture and sustain the interest of consumers migrating between different channels and offer them a unique shopping experience," Kąkol stresses.
According to a survey conducted by My Gazeta for Spicy Mobile, 65% of consumers admit to doing their shopping by phone, and these are usually users aged 25-34. This group also seems to be the most convinced about shopping apps: almost every second person declares that they buy in mobile apps and on websites (48%), and another 23% only in mobile apps.
Trend 5. Omnichannel
The aforementioned survey results also show the intertwining of the online and offline worlds when it comes to the purchase path: 78% of respondents often browse offers on their phone to make a desktop purchase, and 42% admit that they have happened to make a purchase influenced by an ad they saw on their smartphone. According to Przemysław Woźniak, mobile is especially conducive to "direct response" campaigns, which encourage consumers to make quick purchases.
– "In addition to the vast amount of user data, the mobile channel also provides brands with interactive Rich Media formats that drive sales through an element of surprise or entertainment. In such ads we use various interactive mechanisms and native smartphone features, such as geolocation. For a few years now, I have been observing an increase in precisely targeted campaigns, for example to increase traffic to a stationary store" – highlights Wozniak.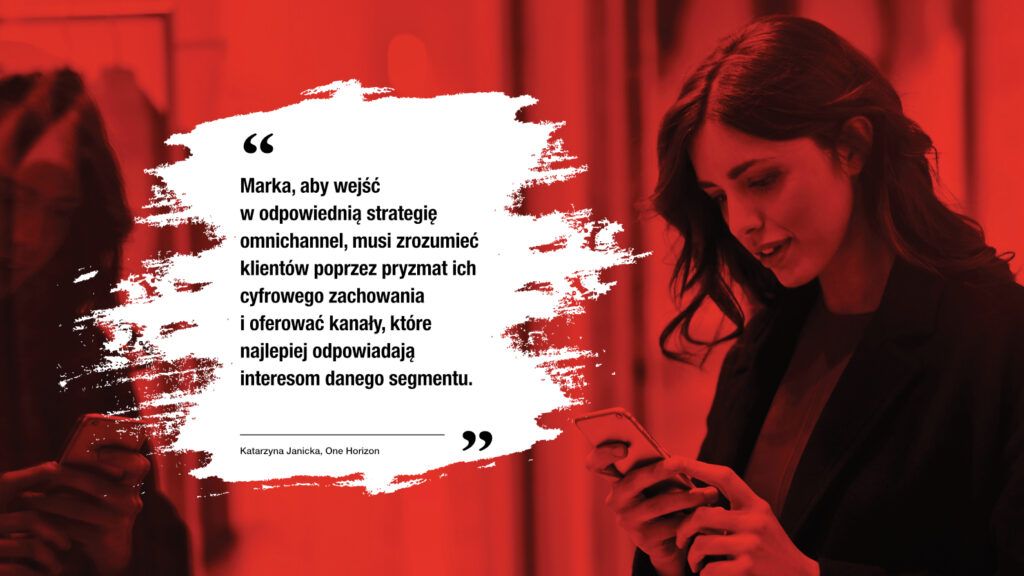 The biggest challenge, as the expert admits, is currently the integration of data from mobile with those from other digital and offline channels, which will enable retargeting and conversion tracking between different channels.